Creamy Chicken Enchiladas would have to be my husband's favourite mexican dish, he even requested them for our New Year's Eve dinner.  Actually, they probably tie with my recipe for Chicken Enchiladas with Home-made Enchilada Sauce, but that recipe is a tomato based  recipe, and this one is creamy, and not to mention healthy.  I found it in the very first issue of Diabetic Living Magazine which I buy religiously because our eight year old daughter has had Type 1 Diabetes since she was 17 months old, and we like to keep her diet as healthy as possible.  It's also a great way to sneak some baby spinach into your kid's diets.  We need to double the recipe for a family our size.
Ingredients: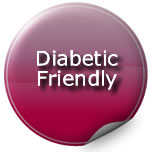 500g Skinless Chicken Breast Fillets (about 2), trimmed
160ml (2/3 Cup) Salt-reduced Chicken Stock
1/4 tsp Freshly Ground Black Pepper
2 Small Bunches English Spinach, leaves torn (I use Baby Spinach Leaves)
250g Carton Sour Extra-Light Cream
70g (1/4 Cup) Plain Skim-Milk Yoghurt (Plain Low-Fat Yoghurt)
1 1/2 Tbl Plain Flour
1/4 tsp Ground Cumin
1/4 tsp Salt
125ml (1/2 Cup) Skim Milk
50g Bottled Sliced Jalapeno Chillies (optional)
2 Green Shallots, finely sliced
6 Flour Tortilla Wraps
65g (3/4 Cup) Coarsely Grated Reduced-Fat Cheddar Cheese
1 Ripe Tomato, diced to serve
2 Green shallots, extra to serve
Chopped Fresh Coriander to serve (optional – I hate fresh coriander!)
Green Salad,  to serve
Directions:
Place the chicken breast fillets, chicken stock and pepper in a small saucepan.  Add just enough water to cover the chicken and bring to a simmer over high heat.  Reduce heat to lowest possible setting and poach the chicken gently for 3-4 minutes or until cooked through.
Remove chicken from liquid and set aside to cool slightly.  Discard the poaching liquid.  When cool enough to handle, use 2 forks to shred the chicken into bite-size pieces.   Set aside.
You have two options with the spinach.  To avoid over-wilting of the spinach, I just place it in a saucepan and pour over a jug of boiling water, but you could bring a large saucepan of water to the boil, add the spinach, stir and cook until bright green and just wilted.  Drain immediately and refresh under cold running water.  Drain well and then use your hands to squeeze out any excess moisture from the spinach.  Set aside to cool. (I use my kitchen scissors to chop the spinach a little so it doesn't clump together).
Combine the sour cream, yoghurt, flour, cumin and salt in a medium bowl.
Stir in the milk and jalapeno chillies, if using.  Spoon half the sauce into an airtight container and place in the fridge.
Add the shredded chicken, spinach and the green shallots to the remaining sauce and stir to combine.
Lay the tortilla wraps on a bench and divide the chicken filling among them, spreading it down the centre of each.  Roll up the tortillas to enclose the chicken filling.
Place, seam side down, in a shallow ovenproof dish large enough to hold the enchiladas in a single layer.
Preheat oven to 180C.  Spoon reserved sauce over the tortillas.  Cook, covered, in preheated oven for 20 minutes.  Remove foil and cook for a further 20 minutes or until heated through.  Remove from oven, sprinkle with cheese and set aside for 5 minutes for the cheese to melt.  I actually cheat and sprinkle the cheese on before I place them in the oven, but feel free to follow the exact instructions if you have more patience than I do.
Sprinkle with chopped tomato, extra green shallots and coriander and serve immediately.
Note:  Serves 6
PER ENCHILADA:  1207kj, 12g total fat (6g sat. fat), 79mg chol, 384mg sodium, 16g carbs, 2g fibre, 28g pro.  Carb exchanges :  1.
GI estimate:  low
These enchiladas can be made up to 1 day ahead before baking.  Cover with foil and keep in the fridge with the reserved sauce.
I usually serve with rice and a green salad.
I make a double batch of this recipe for my family of 8, and usually have left-overs for 2 people the next day.
Don't be overwhelmed by the number of steps involved.  I know it looks complicated on paper, but it is really super-easy and the next time you make it you will be much faster.  Poaching the chicken is the time-consuming part, but you can do that in advance, and you can even keep some ready in the freezer.
Source:  Diabetic Living Magazine, Issue 1
This week I am taking part in The Recipe Swap at http://grocerycartchallenge.blogspot.com.au/