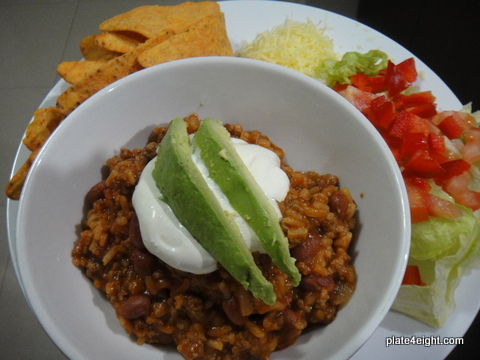 Every household has it's fussy eater.  I have two!  The Vegemite Kid, which, when you have six kids is a given, but my husband ranks right up there with the best of the best when it comes to fussy eaters.  He will only eat Chicken Breasts (I have to say I am with him on that one), he doesn't eat fresh tomatoes (unless somebody else serves them up to him, and then he raves about the dish), he hates pumpkin without exception, he likes his rice on the side…..and the list goes on.  So, if he gives one of my new dishes his blessing then you know it is bound to re-appear in my meal plan.  And fortunately he loves Taco Salad Dippers because the kids have been begging me to make it this week.  In fact, he says he prefers it to actual Tacos.  I can't believe I kept putting off making it because I thought he would turn his nose up at the "Dip It" nature of the dish.  Not to worry, it has now secured it's place on our Keepers List.
Taco Salad Dippers
Ingredients:
1kg Lean Mince
1 Onion, diced
6 Cups of Water
1 Cup Rice
1 tsp Oregano
1 Tbl Sugar
1/2 – 1 tsp Chilli Powder (depending on if the kids are eating it)
2 tsp Salt
2 tsp Cumin
2 Cloves Garlic, finely minced
1 410g Can Tomato Puree
4 Tbl Tomato Paste
1 Can Kidney Beans, drained and rinsed thoroughly (or your favourite beans, tonight I am using a five bean mix)
Directions:
In a large pan/pot, brown your mince with the onion and garlic until the mince has completely browned and the onions are translucent.
Add water and remaining ingredients and bring to a boil, then reduce the heat and simmer for 40 minutes with the lid off, stirring occasionally to make sure the rice isn't sticking to the bottom of the pan.
Don't worry if the mixture appears watery, it will reduce as it simmers and thicken to make a nice sauce.
Serve with corn chips and your favourite salad toppings.
Now, kick back with the family and enjoy a Friday Night Movie.
Adapted from a recipe found at http://www.melskitchencafe.com/
Note:  I freeze left-overs in single serves for quick and easy emergency meals-for-one.