I'm playing catch-up with my housework today after spending the past week preparing for Miss 6's Rapunzel Party in the park, so I thought I would share a quick recipe that's really handy for when times get busy. If you ask me, quesadillas are really just a fancy form of toasted sandwiches, and you can fill them with anything you would normally put in a toasted sandwich. But just remember they don't seal around the edges, so if you go for anything really runny like baked beans or spaghetti, it's going to drizzle out and it will be hot!
This recipe for Chicken Quesadillas comes from http://www.30daygourmet.com/, my favourite freezer cooking website. I've been visiting 30 day for at least 15 years now and it's loaded with freezer cooking tips and recipes from cooks all over the world, so if you have a spare 15 minutes (did I say 15 minutes? I meant at least an hour!), pop over to their site and try to stop yourself from bookmarking a heap of dinner ideas for the freezer. I've made a few changes to the recipe (no surprise there), and if you are in a super hurry you can use a BBQ chicken from the shops. Also, how much chilli you use is up to you, leave it out altogether if you like.
Chicken Quesadillas
Serves 8
Ingredients: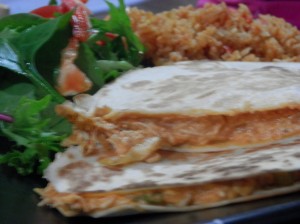 1 1/2 Cups Cooked and diced or minced Chicken
1/4 Cup Reduced Fat Sour Cream
1 Cup Thick and Chunky Salsa
1 Cup Shredded Tasty Cheddar Cheese
1 tsp Chilli Powder
8 Flour Tortillas
Side dishes like a tossed green salad and mexican rice are great with these quesadillas.
Directions:
Combine the chicken, sour cream, salsa, cheese and chilli powder in a large mixing bowl and stir to combine.
At this stage you could place the mixture in a freezer bag, seal and label it and pop it into the freezer.
Now I like to heat my mixture up a little in the microwave to make sure it is heated through and the cheese melts properly before I place it in my tortillas.
Lightly spray or oil a frying pan and heat to the same temperature you would use for toasted sandwiches.
Lay your tortillas out on a flat surface and divide the chicken mixture evenly between them. Place the mixture on one side of your tortilla only, leaving a margin around the edges.
Fold your tortilla in half over the filling and place into the frying pan to toast. When the underside has slightly browned, flip over to toast the other side.
Serve with your favourite side dishes or on their own for a quick snack.
Notes: You don't have to use the fold over method, if you like you can just spread the filling over one tortilla and place another one on top, just like a toasted sandwich. Just be aware that when you cut it in half your filling may spill out.
Source of Original Recipe: http://www.30daygourmet.com/