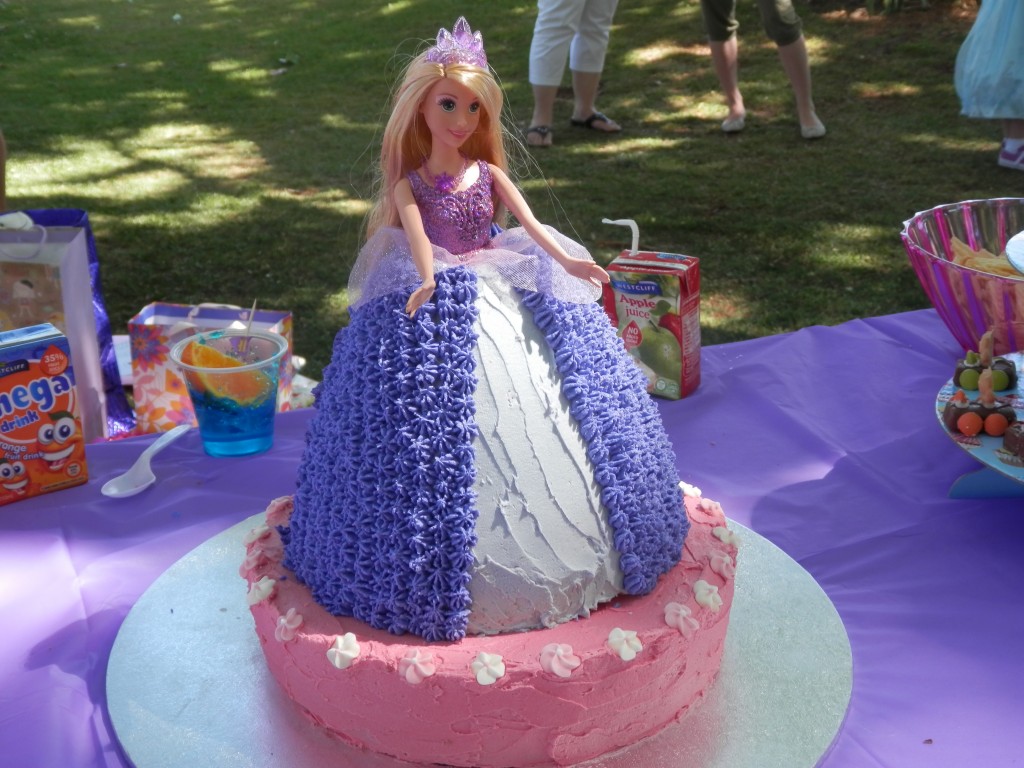 So, who do we know that would be crazy enough to plan a last minute children's birthday party, send invitations out and cater for it all with a week's notice?  O.K.  Yes, it was me.  Why a week's notice?  Well, it seems a lot of children were born in August the year Miss 6 entered the world, and most of these children also planned birthday parties this year, which meant we had to take the first free weekend we could get.  Not to worry though, a party is a party, no matter when it is thrown, and as you know, all kids love parties!  So a September party it was.
Not everything goes to plan when you are hosting a birthday party.  A change in weather, illness, baking flops etc. and carefully laid plans can easily be tossed into the air at the very last minute, so you can just imagine me checking the weather forecast every day and jumping out of bed the morning of the party and heading straight for the nearest window to make sure there were no clouds in the sky.  Lady Luck was on our side, the weather was perfect, wonderful friends turned up early to the park to help us with setting up, and the only thing that didn't go to plan was my Rapunzel Tower Cones filled with Eggless Pink Marshmallow.  I ran out of time to make them, but as it turns out we really didn't need them.  There was plenty of food to go around.
I'm a fanatical planner when it comes to my kid's birthday parties.  I love every minute of it, deciding on a theme, helping Mr8 create the invitations, selecting the party food, the shopping for party bags and favours, the Piñata, the games, the costumes, and most of all…….THE CAKE!!  I even make a detailed plan for the three or four days leading up to the party, listing everything that needs to be achieved on each day.  Yes, I LOVE my kid's parties.  And while throwing together a party in a week is tough, it is do-able and heaps of fun.
So I started with a Theme.  I had my heart set on a fairy party, but Miss6 reminded me that she had one of those last year and that she would prefer a Rapunzel party.  Excellent!  We went to a Rapunzel party last year, so I knew the perfect venue (a beautiful local park with gorgeous flower beds in full bloom for the Carnival of Flowers).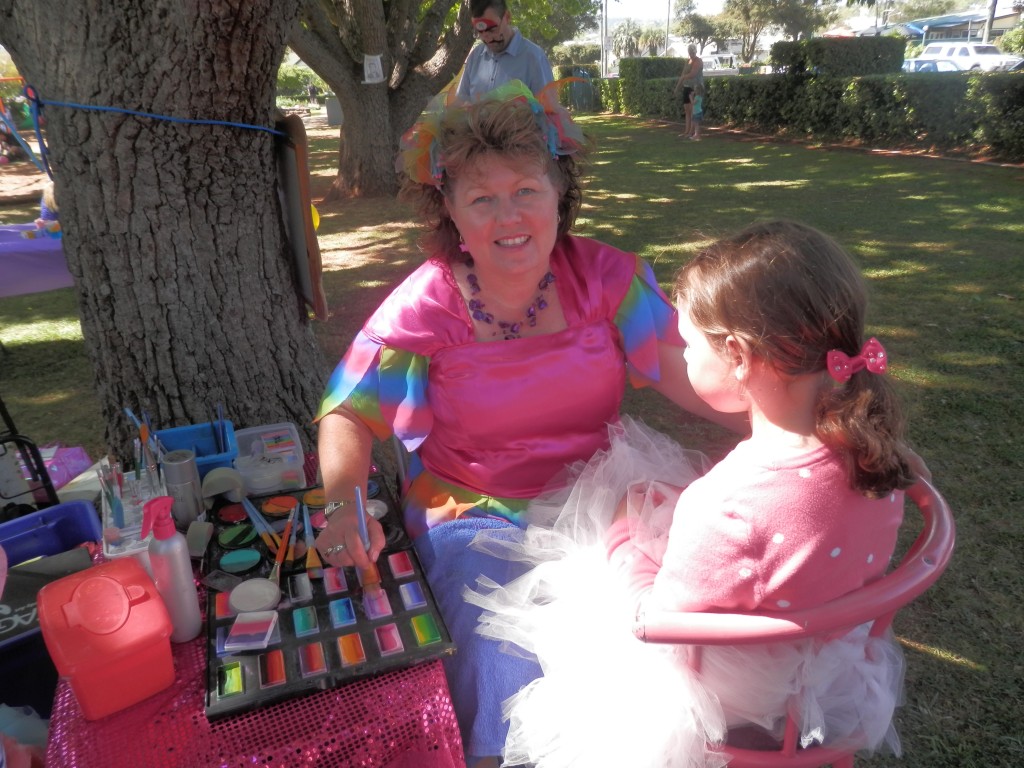 Entertainment? I knew it would be difficult to plan all of the party games myself and buy all of the prizes at such short notice, so we called "Sparkles", our favourite face painting Fairy come Clown come Pirate and party hostess to see what she had available.  Luckily she had two spots available that Sunday, so we planned our party for 10am – 12pm, asked Sparkles to come as a fairy because Rapunzel is a fairytale, and to host the games as well as do the face painting and make balloon animals.  There, entertainment sorted!  I have to mention that Sparkles also stuck around to help out with the Piñata (bought by me), and the cutting of the cake, even though we went way overtime.  Thank you so much Sparkles!
We first met Sparkles at one of our Kindy's Family Fun Days.  Children are mesmerized by her, she has a real talent for face painting and has always managed to produce special on the spot requests from the kids.  Some people are just especially talented in that area I guess.  She plays the best party games, joins in with the kids and looked like the Pied Piper as they followed her around the park.  Not to mention the reduction in stress levels for the hosting mum who has her hands free to take photos and really enjoy her kid's special day, and take the opportunity to mingle with the other parents.
Next we picked out the Invitations, asked Mr8 to tinker with the lay-out a bit, change some wording and print them off for Miss 6 to give to her little friends.
Then came The Menu:
Watermelon (always one of the first things to disappear)
Cheerios & Sauce
Chips
Coloured Popcorn (gross if you ask me, but a special request from the Birthday Girl)
A Savoury Platter for the parents
Juice Poppers of various flavours and bottles of water
And of course, a Rapunzel Birthday Cake
Once all of my food shopping was done I needed to organize the Party Bags.  I went with Pink Paper Bags sealed with a pretty puffy sticker for the girls and dinosaur bags for the two little boys attending.  That's our Piñata in the background.
Home-made Playdough is always a favourite party favour of mine, but being time-poor I opted for bought gifts.  I found some great bags filled with flower-shaped sunglasses, necklaces, enormous rings and bracelets for the girls and for the boys I found binoculars, sticky hands, yo-yos and matchbox cars.  Then I topped the bags up with lollies and balloons.
My favourite part of party planning is The Cake.  I would normally agonize over every aspect of the cake, but this time I was relieved when Miss 6 requested a Rapunzel Doll Cake.  Easy, I can whip one of those up the night before the party and not be stressed about it.  These cakes look amazing, but don't require half as much effort as you would think and you can easily hide or rectify any mistakes you might make along the way, so don't hesitate if your little girl asks for one, have a go!
So, what does Rapunzel wear to her own party?  Why a Rapunzel costume from KMart of course ($20 well spent I might add), and a long golden plait made from a ball of wool purchased at Spotlight for $2.49 (Bargain!).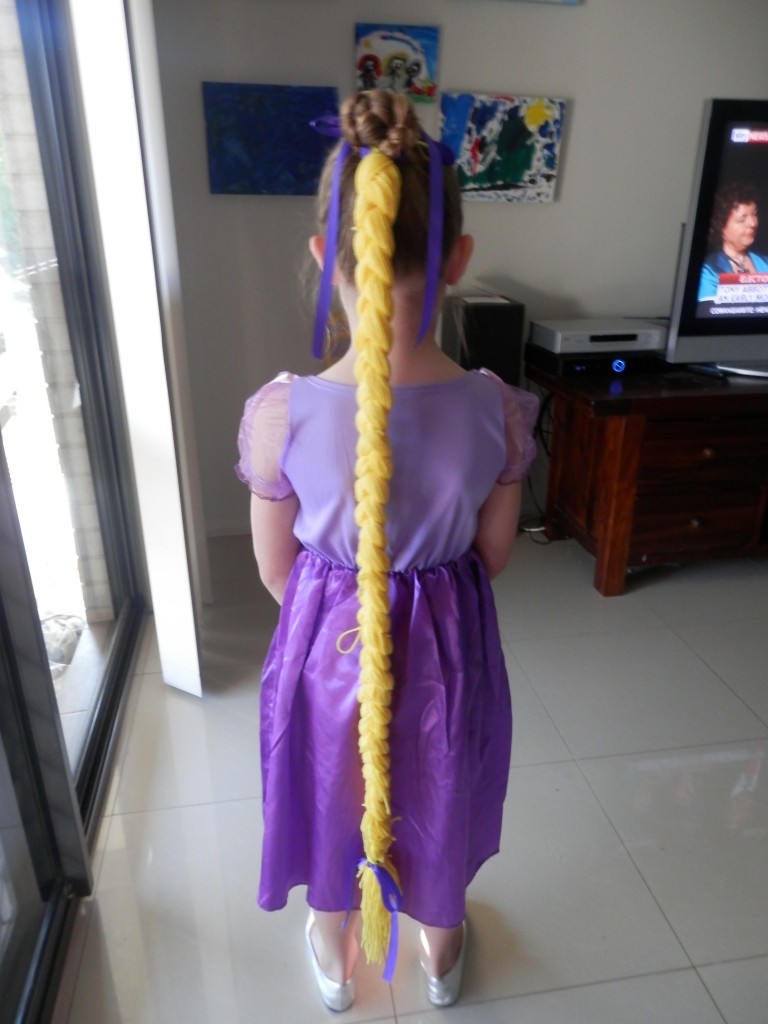 The birthday girl had a wonderful time, and the day ended with Rapunzel and her friends up a tree going through their party bags as Rapunzel dangled her long golden braid for her prince to climb.
P.S. Mum went home, had lunch and slept on the couch until 5pm!  Clearly a result of having only 3 hours sleep the night before, but well worth it to see the smile on our little girl's face as she laughed and played with her friends!
All party recipes can be found here on plate4eight.com under the Snacks heading.