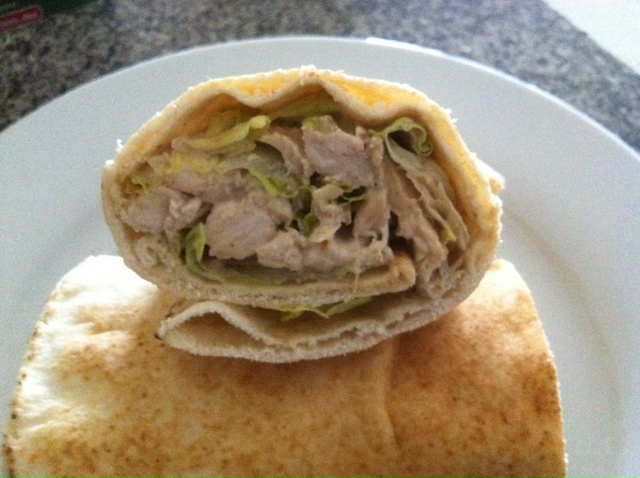 Plagued by a sudden urge to visit a McDonald's Drive-through to buy a Chicken Caesar Salad Wrap? You might like to have a re-think and try these instead. You could be munching away on their awesomeness in less time than it would take you to grab your keys, jump in the car and head for Maccas. I'd better watch myself, because if I make too many lunches like this one, Mr8 is going to expect me to whip up something like this every day.
I have used a bought BBQ chicken because Mr8 was actually at the shops when I was deciding what to make for lunch and I gave him a call and asked him to grab me one, but if you prefer to cook and shred your own chicken breasts, go for it. Shredded chicken is one of the handiest things you can keep in your freezer and I really need to stock-up over the school holidays. All of the other ingredients are pretty much pantry staples, so you are likely to already have them in your kitchen, which is why this dish makes a great last minute lunch.
Chicken Caesar Salad Wraps
Ingredients:
1/4 Cup Mayonnaise (I used whole-egg, but lite or regular will do fine)
1/4 Cup Parmesan Cheese, grated
2 Tbl Fresh Lemon Juice
1 Tbl Worcestershire Sauce
1 Tbl Dijon Mustard
1 Clove Garlic, finely minced
1/4 Cup Olive Oil
1 Large BBQ Chicken or approx. 4 large Chicken Breasts, cooked and shredded
1 Lettuce (I used an iceberg), leaves washed and torn
4-6 Tortillas or Wraps (how many you make depends on how much filling you use in each one)
Directions:
In a small mixing bowl, place the mayonnaise, parmesan cheese, lemon juice, worcestershire sauce, dijon mustard, and garlic, stirring to combine.
Gradually add the olive oil, whisking as you pour to ensure it is thoroughly combined. Set aside until needed.
Shred the meat from your BBQ chicken into bite-sized pieces and place in a large mixing bowl.
Toss the washed and torn lettuce leaves together with the chicken.
Pour the sauce mixture over the chicken and lettuce and give it all a good toss together to ensure the sauce is evenly distributed throughout the salad.
Divide the mixture evenly amongst your tortillas/wraps, roll up and serve.
Source of Original Recipe: http://www.melskitchencafe.com/2012/07/chicken-caesar-salad-wraps.html