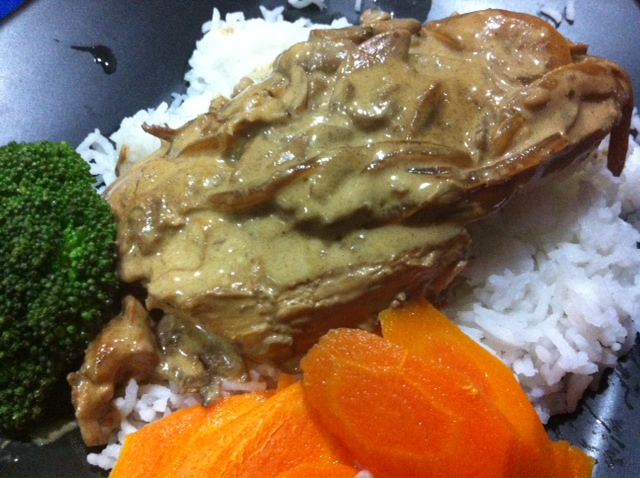 Hhhmmmmm, doesn't look half as good as it tasted!  But I caught the kids trying to scrape sauce off the fry pan, so it must have been good!  And Miss 7 even ate the mushrooms, which is a first.  I always pictured Chicken Stroganoff as slices of chicken in a creamy, tomato sauce, so I was pleasantly surprised when I googled it and came up with this recipe using whole chicken breasts and no tomatoes.  It's very easy and pretty quick to make, so it makes a great mid-week meal.  Here are the instructions for cooking it in the oven, but I chose to use my electric fry pan and it turned out beautifully.
Chicken Stroganoff
Ingredients:
2 tablespoons olive oil
4 (180g each) chicken breast fillets, trimmed
1 medium brown onion, thinly sliced
1 garlic clove, crushed
200g cup mushrooms, sliced
2 teaspoons sweet paprika
2 tablespoons worcestershire sauce
1 cup chicken stock
1 cup light sour cream
Steamed white long-grain rice and finely chopped fresh chives, to serve
Directions:
Preheat oven to 180°C/160°C fan-forced.
Heat half the oil in a flameproof baking dish over medium-high heat. Add chicken. Cook for 2 minutes each side or until light golden. Transfer to a plate.
Reduce heat to medium. Heat remaining oil in pan.
Add onion, garlic and mushrooms. Cook, stirring occasionally, for 5 minutes or until onion is softened.
Add paprika. Cook, stirring, for 1 minute.
Add worcestershire sauce. Simmer for 2 minutes or until liquid is reduced by half.
Add stock. Simmer for 3 minutes. Remove from heat (see note).
Stir in sour cream. Season with pepper.
Return chicken to dish. Transfer to oven.
Bake, turning chicken occasionally, for 30 minutes or until chicken is cooked through.
Sprinkle with chives. Serve with steamed rice.
Original Source:  http://www.taste.com.au/recipes/20114/chicken+stroganoff