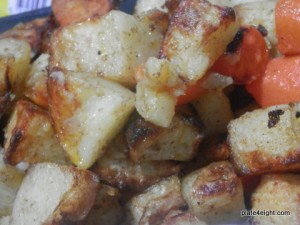 Ingredients:
3 Tbl Olive Oil
5 Cups Potatoes diced into bite-sized pieces (I left the skins on)
1/4  Chilli Powder
1 tsp Cinnamon
1/2 tsp Cumin
1/2 tsp Paprika
1/8 tsp Cayenne Pepper
1 tsp Salt
1/8 tsp Freshly Ground Black Pepper
Directions:
Preheat your oven to 200C.
Grease a large baking dish with some oil.
Combine all of the spices in a bowl and set aside.
Add diced potatoes to your baking dish and drizzle 3 Tbl Olive Oil over your potatoes, tossing to ensure they are thoroughly coated.
Sprinkle your spice mixture over the potatoes and once again toss to ensure they are entirely covered with the spices.
Place potatoes in the oven, tossing every 15 minutes or so to make them go crispy on all sides.
Once potatoes are cooked, golden and crispy, remove fro the oven and serve.
This recipe was adapted from a recipe found at http://www.barefeetinthekitchen.com/2012/04/cinnamon-chile-roasted-potato-bites.html