Ingredients: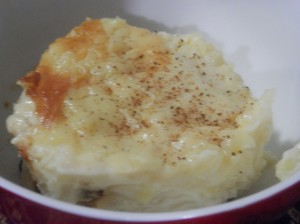 2 Cups (500ml) Milk
300ml Cream
1/2 Cup (100g) Medium Grain Rice, rinsed and drained (We used Basmati because that's all we had, and it worked!)
1/2 Cup (100g) Sugar
1 Cinnamon Stick
1 tsp Vanilla
Pinch of Ground Nutmeg, plus extra to sprinkle
2 Strips Orange Rind (you can use Lemon Rind)
2 Egg Yolks
Directions:
Preheat your oven to 160C.
Combine the milk, cream, rice, sugar, cinnamon, vanilla, nutmeg and orange rind in a saucepan and cook over medium heat, stirring occasionally until it reaches a simmer.  This could take about 5 minutes.
Remove mixture from the heat and set aside for about 15 minutes to infuse.
Remove the cinnamon stick and add the egg yolks, stirring to combine.
Pour the rice mixture into a casserole dish with a 4 Cup/1 Litre capacity.
Sprinkle with extra nutmeg.
Bake for 40 minutes or until the rice is tender and the custard has set.
Remove from the oven and set aside for 10 minutes before serving with ice-cream.
This recipe is Mr8′s adaptation of a recipe he found at http://www.taste.com.au/recipes/19629/baked+rice+pudding
Notes:  Why not try adding some Dried Apricots?  Just soak them in some boiling water to soften, and then dice them into bite-sized pieces and toss them in.