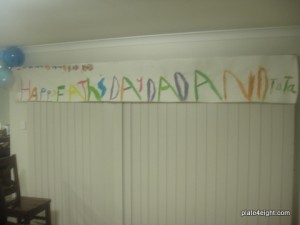 First of all, I would just like to say we are working on the spelling……..but it's cute, don't you think?  Tata?  That's what my kids call my father-in-law.  Many years ago when our first son was just a toddler, my father-in-law used to say "Tataa!"  to him instead of good-bye, and naturally, as any toddler would, he thought that was his grandfather's name.  And every child since has called him Tataa.  This weekend, the first weekend of Spring, we celebrated Father's Day in Australia, and the weather was perfect for BBQ-ing.  The kids had fun spoiling their father and grandfather and decorated the house with blue and silver balloons and the girls made this banner to hang in the family room.  Later on this week I'll fill you in on the new recipes we tried out for our BBQ.
With all of the kids well enough for school last week, I decided to try out three new recipes, Shredded Beef Tacos, Best Burgers and Shanghai Wings.  As usual, I changed a few things with the Tacos and Burgers, but the Shanghai Wings were perfect just as they were, and The Vegemite Kid even ate three pieces of the chicken, which is a miracle in itself.  He said they tasted just like chicken nuggets, which definitely doesn't do the recipe justice.  And this week I'm still making the most of the kids being back at school and trying out some new recipes again. I'll let you know how they go.
Week 35
Monday 3rd September – Sunday 9th September, 2012
Monday – Beef Enchiladas with Rice (recipe to come)
Tuesday – Honey and Dijon Chicken
Wednesday – My Crumbed Chicken Recipe (I will eventually post it, I promise!), corn, carrots, broccoli and baked mashed potato cups
Thursday – Mongolian Beef
Friday – Homemade Pizza Night
Saturday – BBQ – Rump Steak with  Italian Parmesan Paste, tossed green salad, baked potatoes and corn
Sunday – Chicken Quesadillas (recipe to come) with Mexican Rice
For more great Menu Ideas, why not visit http://orgjunkie.com/blog
And last, but not least, I had to show off a couple of meals my husband cooked for me when I was sick, Chicken Kiev with a vegetable toss and corn, and Pork Fillet in garlic, thyme and white wine with rosemary potatoes, corn, beans, zucchini and capsicum:
Happy Cooking!