Italian Beef Casserole and Orange Infused Baked Rice Pudding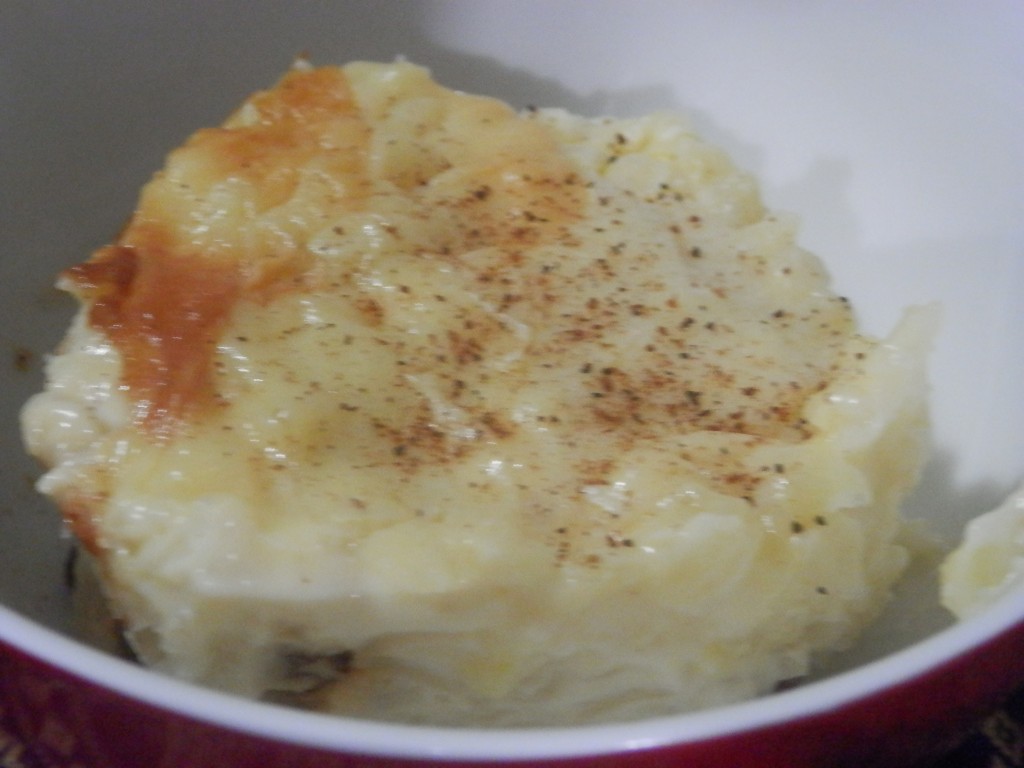 Manic Monday is over and it's time to finally catch up on some recipes I have been meaning to post for a while now. Best do it before I forget what I have photographed and start guessing! So let's start with Sunday, it's fresh in my mind and as I mentioned on FB, Mr8 made quite a spectacular Orange Infused Baked Rice Pudding. Oh yes, it was good!
Sundays are even busier than Mondays in our house. I know it's meant to be a day of rest and everything, but if I stopped to put my feet up on a Sunday I would find myself ripping my hair out come Monday morning, ironing uniforms, packing lunch boxes and filling drink bottles with an extra 3 or 4 loads of washing waiting for me, including bed sheets. Not a fun picture is it? So on Sundays we do what we have to do and try to mix it with a bit of fun somewhere in between. I'm guessing most families are the same. But if I can take a shortcut like using my Crockpot and then taking my husband up on his offer to make dessert, then that's what I'm going to do.
So, with no further ado, here is our Sunday Night menu, Italian Beef Casserole and Orange Infused Baked Rice Pudding. Both dishes were spectacular and well worth trying (they got the thumbs up from the kids).
Italian Beef Casserole
Serves 4
(we double this recipe)
Ingredients: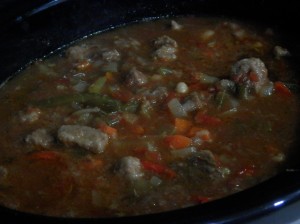 1 Green Capsicum
1 Red Capsicum
1 Tbl Olive Oil plus 2 Tbl extra
600g Chuck Steak (I used Round Steak)
Plain Flour
Salt and Pepper to taste
1 Onion
3 Cloves Garlic
1 Large Stalk of Celery, finely diced
1 Large Carrot, peeled and finely diced
400ml Can Diced Tomatoes
400g Can Cannellini Beans, drained and rinsed
2 Cups (500ml) Beef Stock
1 Tbl Capers (optional and I didn't use)
2 Tbl Fresh Parsley, very finely chopped
Directions:
Preheat your oven to 180C.
Place your two capsicums on a small roasting tray and lightly drizzle with oil. You could use a pastry brush if you prefer.
Roast capsicums in th eoven for approx. 40 minutes, turning them over a couple of times to roast on all sides until their skins blacken and blister.
Remove your capsicums from the oven and place in two separate plastic bags. Seal the bags and allow your capsicums to steam for a couple of minutes before gently rubbing the skins through the plastic. The skins should rub off quite easily.
Remove the capsicums from the bags, peel away any remaining skin and remove the membranes and seeds from inside the capsicums.
Slice lengthways into fine strips and set aside until needed.
Combine flour, salt and pepper to taste in a fresh plastic bag.
Dice the beef into 2cm cubes and add to the flour mixture. Tie a knot in the end of the bag and toss the beef in the flour to coat thoroughly.
Heat the oil in a large, heavy-based frying pan. Add the beef in small batches, lightly browning on each side. Careful not to cook your meat through, we only want to seal each side. Remove each batch to your waiting crockpot.
Once all meat is done, add the remaining oil to your pan and add your carrots. Cook for 1 minute.
Add the celery, garlic and onion to the pan and cook until vegetables have softened.
Add the diced tomatoes, cannellini beans and stock and bring to the boil, stirring well and scraping any bits off the bottom of the pan for flavour. This is when you would add your capers if you were using them.
Add half the parsley and bring to the boil.
Add capsicum strips and stir through the mixture.
Pour this mixture over your beef in the crockpot.
Cover and cook on LOW for 6-7 hours or HIGH for 5 hours.
I cooked mine on low and the meat was very tender.
Remember, every crockpot is different and you may need to adjust the cooking time to suit your appliance.
Serve with small pasta and scattered with the remaining parsley.
We topped it off with a crusty loaf of Sour Dough bread to mop up the sauce.
Recipe Source: http://120dollarsfoodchallenge.com/2011/03/21/day-4-italian-beef-casserole/
Notes: This recipe may be cooked in the oven in a large casserole dish at 140-150C for 3 hours.
Orange Infused Baked Rice Pudding
Ingredients: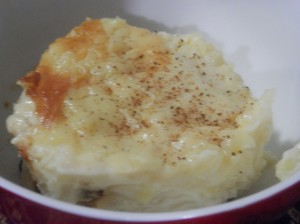 2 Cups (500ml) Milk
300ml Cream
1/2 Cup (100g) Medium Grain Rice, rinsed and drained (We used Basmati because that's all we had, and it worked!)
1/2 Cup (100g) Sugar
1 Cinnamon Stick
1 tsp Vanilla
Pinch of Ground Nutmeg, plus extra to sprinkle
2 Strips Orange Rind (you can use Lemon Rind)
2 Egg Yolks
Directions:
Preheat your oven to 160C.
Combine the milk, cream, rice, sugar, cinnamon, vanilla, nutmeg and orange rind in a saucepan and cook over medium heat, stirring occasionally until it reaches a simmer. This could take about 5 minutes.
Remove mixture from the heat and set aside for about 15 minutes to infuse.
Remove the cinnamon stick and add the egg yolks, stirring to combine.
Pour the rice mixture into a casserole dish with a 4 Cup/1 Litre capacity.
Sprinkle with extra nutmeg.
Bake for 40 minutes or until the rice is tender and the custard has set.
Remove from the oven and set aside for 10 minutes before serving with ice-cream.
This recipe is Mr8's adaptation of a recipe he found at http://www.taste.com.au/recipes/19629/baked+rice+pudding
Notes: Why not try adding some Dried Apricots? Just soak them in some boiling water to soften, and then dice them into bite-sized pieces and toss them in.