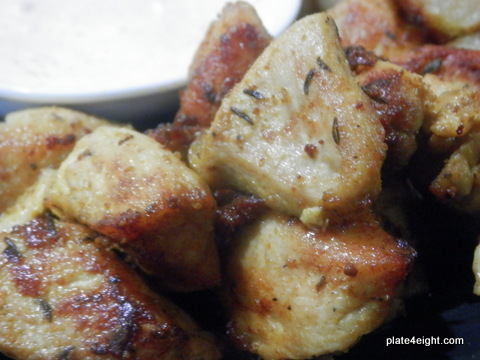 This is one of those meals that I like to keep for a Friday night. It's quick and easy, but feels like you are having Indian Take-away. And it's not too spicy for the kids either, so even my picky eater, The Vegemite Kid (who, I might add, even tried gravy with his roast beef the other night!) loved it and asked for seconds and thirds even. And he totally devoured the Cinnamon Chilli Roasted Potato Bites I served on the side, but predictably passed on the Po'dunk Sauce. You Do Not! want to pass on the Po'dunk sauce! I found this one over at Barefeet In The Kitchen, but originated from a cookbook called "Madhur Jaffrey's Quick and Easy Indian Cooking". Might have to get myself a copy of this one.
Indian Chicken Bites
Ingredients:
6 Skinless, Boneless Chicken Breasts, diced
3 Tbl Olive Oil, divided
1 tsp Freshly Ground Black Pepper
1 tsp Cumin
1 tsp Thyme
1 tsp Paprika
3/4 tsp Salt
1/4 tsp Garlic Powder
1/4 tsp Tumeric
1/4 tsp Cayenne Pepper
Directions:
In a large bowl, combine the spices with 1 Tbl of the Olive Oil. Stir to combine the spice mix and then add the diced chicken, tossing to ensure it is totally covered with the spice mixture.
Allow to marinate for 10 minutes.
Heat remaining 2 Tbl Oil in a large pan over high heat.
Add the chicken, and sauté until all sides of the chicken are golden and the chicken is cooked through.
Remove chicken from the pan immediately when cooked to avoid it drying out in the pan.
Serve with Cinnamon Chilli Roasted Potato Bites and Po'dunk Sauce.