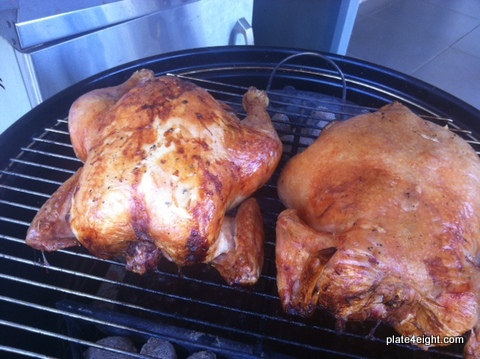 Excuse me a moment while I do a little boasting and admire my two perfectly roasted chickens.  Perfect, did I say Perfect?  Why yes I did, and they were quite spectacular.  Even if I do say so myself.  In fact, I can see myself roasting a few more chickens in the near future.  Maybe for Christmas even.
You may have noticed I've been a little busy lately (hence my lack of recipe sharing), and when I say busy I don't just mean the usual "I've got 8 people in the house" busy, I mean crazy busy.  And this Saturday was no exception.  A fun birthday party in the park in the morning followed by grocery shopping and the dreaded housecleaning, so I was in no mood for a complicated Saturday night dinner.  But Saturday is traditionally our family dinner night, so I wanted to make something special yet still easy.  And you don't get much easier than asking Mr8 to fire up the Weber, chop up a few lemons and cloves of garlic and throw two chickens on the BBQ now do you?
I have only attempted to roast a chicken once in my mothering history, and it was a total disaster.  Mr8  and I were living in super-hot North Queensland with our first child and were celebrating Christmas alone, far away from any family, so we thought we would try roasting a chicken like his mum does at Christmas to make us feel like we were having one of our usual family Christmases.  Problem was it was so hot we placed the chicken on the BBQ and went back inside to enjoy our air-con and left the chicken on the BBQ a little longer than we should have.  Well, quite a bit longer actually.  Verdict:  We were better off to buy a Roast Chicken from Woolworths.  And for the past 13 years that's what we have done….until now!  I took the plunge, chose a simple recipe and everything worked out perfectly.  And because I roasted two chickens we even have left-overs.
So my  number one tip for those of you who are reluctant to give chickens a try is to choose a decent sized chicken, not a puny little one that will cook in half an hour.  Then choose a simple recipe and go for it.  Oh, and don't forget that the bird's on the BBQ!
BBQ Chicken
Ingredients:
1 Decent Sized Chicken (around 2kgs)
1-2 Lemons chopped into chunks
3 Cloves Garlic chopped into chunks
Salt and Freshly Cracked Pepper
Tooth Picks
Olive Oil
Directions:
Ask your husband or significant other to fire up the barbie, unless you are exceptionally talented (which I'm not!), and can do it yourself!
Now there seems to be a little controversy these days as to whether or not you need to wash your chicken, but for me it's a must to make sure the cavity has been cleaned out properly.  You know, the yucky bit, the number one reason I don't usually roast a chicken.  So wash, or don't wash, it's up to you.
Stuff the lemons and garlic chunks into the cavity of your chook and use the toothpicks to seal the opening.
Massage some olive oil into the skin of the chicken, sprinkle on some salt and freshly cracked pepper and place onto your BBQ with the lid on until cooked through.
Cooking times will vary according to the size of your bird, but the recommended time is 1 hour per 1kg of weight.  So, my 2kg bird took pretty close to 2 hours to cook perfectly.
Serve with roast vegetables or a salad.
And if you are feeling especially clever, while the chicken is cooking you can make a special dessert like I did, Chocolate Mousse Cake with ice-cream.