I wanted something quick and easy to wrap up in my Homemade Tortillas this week, so I came up with this slightly spicy Shredded BBQ Beef. And the best part is it's a Crockpot Recipe. That's right, chuck it all in, then walk away until dinner time.
Shredded BBQ Beef
Ingredients: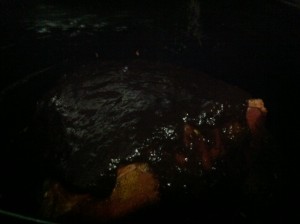 1 Large Blade Roast (I used a 2kg roast because I am feeding an army, but yours doesn't need to be that large)
1 tsp Cumin
1/2 tsp Paprika
1/2 tsp Fennel Seeds
1/2 tsp Cinnamon
Home-made BBQ Sauce (recipe below)
Bread Rolls for serving
Directions:
Place the cumin, paprika, fennel seeds and cinnamon in a small bowl and stir to combine.
Place the roast into your Crockpot and sprinkle the spices over the top and sides of your roast.
Pour your Home-made BBQ Sauce over the top of the roast and cook on LOW until cooked through.
Once the meat is cooked through, remove from the Crockpot to a large pan or cutting board and shred using two forks. Place meat back into the juices in the Crockpot and keep on WARM setting until needed. Remove meat from juices just before serving.
Notes: Cooking times will vary according to the Crockpot you are using. Refer to your Manual for Cooking Times.
Now, the BBQ Sauce. I thought I was a bit clever with this one. I couldn't bare the thought of tipping bottled BBQ sauce over the top of my roast, and as it turns out, it takes no time at all, and no fancy ingredients to make your own.
Home-Made BBQ Sauce
Ingredients:
1/2 Cup Tomato Puree
2 Tbl Brown Sugar
2 Tbl Worcestershire Sauce
1 Tbl Apple Cider Vinegar
1 Dash Tabasco
1 Clove Garlic, crushed
1/4 tsp Mustard Powder
1/4 tsp Salt
Directions:
Place all of the ingredients into a small saucepan and whisk together over a medium heat.
Bring the mixture to a simmer until the sugar has dissolved, then remove from the heat.
Allow to cool slightly before using.
Serve on fresh bread rolls or with roast vegetables.
This recipe is an adaptation of a recipe found at http://allrecipes.com.au/recipe/966/basic-barbecue-sauce.aspx?o_is=SR