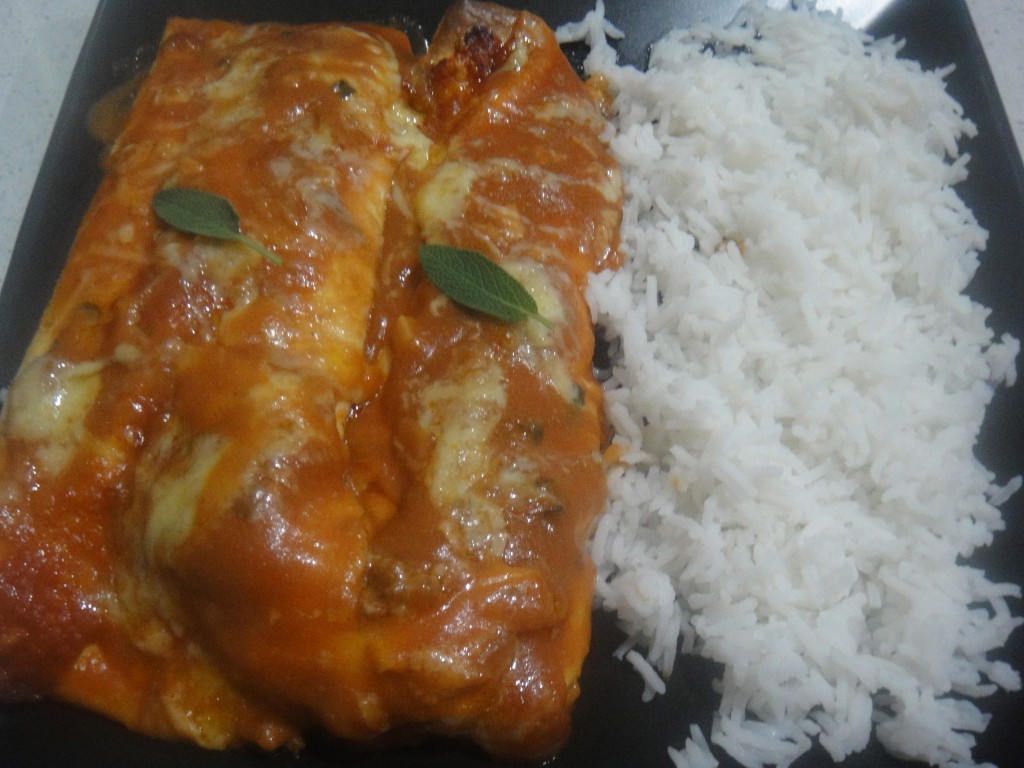 Hmmmmm, I think I have to go with Like It on this one.  Despite the fact that the majority of my kids and my husband devoured everything on their plates, this recipe for Beef Enchiladas was a little on the rich side and to be honest, I'm more a fan of Chicken Enchiladas than Beef.  It won't be re-appearing on a regular basis, but if I had some mince to use up I think I would make it again.  What would I change?  Well, they don't give you an accurate measurement for the sage, so I would say use about 1 -1 1/2 Tablespoons in the filling, and the same again in the sauce (3 Tbl. in total), and I wouldn't sprinkle cheese on the filling before rolling up the enchilada, I would only sprinkle it on the top of the dish. I'd also probably halve the amount of flour in the filling next time around because I felt it tasted a little too thick.  The sauce would have to be my favourite part of the recipe, tasty and nice and quick to make, so I will happily use it again when I'm short on time or out of my regular enchilada sauce.
Beef Enchiladas
Ingredients:
Filling:
2 Tbl Olive Oil
1 Medium Onion, diced
2 Cloves Garlic, minced
1 kg Beef Mince
4 Tbl Plain  Flour
1 Tsp Chilli Powder (you may like to start with 1/2 tsp if your kids don't like spicy food)
1 tsp Cumin
½ tsp salt
1 – 1 1/2 Tbl Sage Leaves, minced
800g Can Diced Tomatoes
Sauce:
4 Tbl Butter
6 Cloves Garlic, minced
1 – 1 1/2 Tbl Sage Leaves, minced
2 Tbs olive oil
1/2  Cup Plain Flour
3 Cups  Low-Sodium Beef Stock
1 Can Tomato Puree
1 tsp Chilli Powder
4 tsp  Cumin
12 Tortillas
2 Cups Grated Tasty Cheese
Directions:
Filling:
Heat 1 Tbl olive oil in a large saute pan over medium-high heat.
Add onions and minced garlic and cook until soft, about 5 minutes.
Add mince and cook until no longer pink, about 8-10 minutes, breaking up chunks of meat as it cooks.
Drain any fat from the mince and return the meat to the pan.
Add the flour, chilli powder, cumin, salt, and the sage. Stir to combine.
Add tomatoes and stir again. Reduce heat to low and keep warm.
Sauce:
In a medium saucepan heat the butter and olive oil over medium heat until butter is melted.
Add the garlic and cook until fragrant, about 3 minutes.
Whisk in the flour until well combined.
Add the beef broth gradually and whisk until no lumps remain.
Stir in the tomato puree, chilli powder, cumin, and  sage.
Turn heat up to high and cook until boiling, whisking frequently. When the sauce starts to thicken, remove from heat.
Preheat oven to 180C.
You will need two baking pans because I have doubled the recipe to feed our large family.  You can freeze the second pan if you like, or just halve the recipe.
Pour about 1 ½ c of the sauce in the bottom of each pan.
Place tortillas on a microwave-safe plate and cover with a damp paper towel. Heat for 30 seconds. Tortillas will soften.
Depending on how big your want your enchiladas, place a line of beef filling down the centre of the tortilla.
Sprinkle a little of the shredded cheese over the filling (I prefer to leave the cheese out).
Roll tightly and place in the baking pan, seam side down.
Repeat for remaining enchiladas.
Pour the remaining sauce over the enchiladas and cover with foil. This is when I would freeze the second pan, ensuring it is tightly sealed.
Bake for 30 minutes.
Uncover, and top with remaining shredded cheese. Bake another 10 minutes.
Remove from oven and let cool 10 minutes before serving.
Source: http://kokocooks.blogspot.com.au
Original Source: http://www.tasteofhome.com/Recipes/Garlic-Beef-Enchiladas
Note: You can use flour or corn tortillas, we used flour because that's our preference.
This recipe is easily halved, or you can just freeze the second pan for a night when you don't feel like cooking.