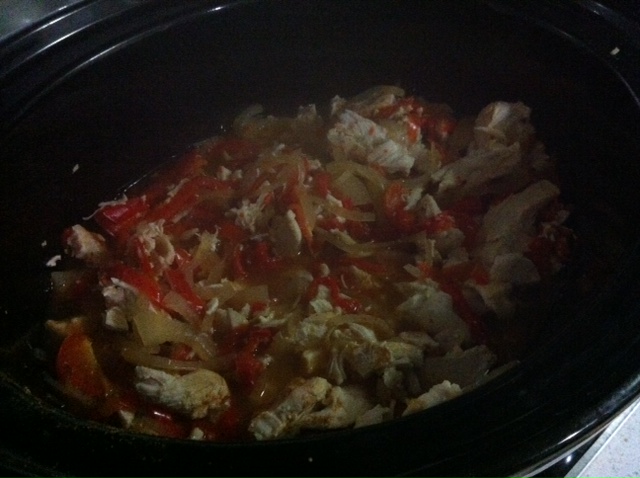 What's your crazy night? Ours is probably Thursdays because the girls have dancing in the evening, so on Thursdays the Crockpot is my friend. I found this recipe for Crockpot Fajitas in one of the new cookbooks I found in my Mother-In-Law's kitchen cupboard a couple of weeks ago, and it's a keeper. It's hard to find good crockpot recipes that don't contain cans of soup or packet mixes, so if you have any "Can't Do Without" crockpot recipes, I'd love to hear from you.
I just popped the Crockpot on while the kids were at school, made a salad, grated some cheese and checked that I had tortillas in the cupboard and sour cream in the fridge, then went about my day knowing dinner was as good as ready.
Crockpot Chicken Fajitas
Ingredients: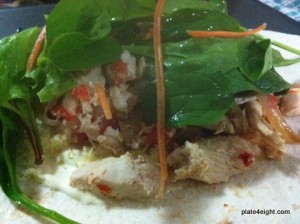 1kg Boneless, Skinless Chicken Breasts
1 Onion, thinly sliced
1 Red Capsicum, sliced
1 tsp Cumin
1 tsp Chilli Powder (start with 1/2 tsp if you don't like things spicy)
1 Tbl Lime Juice
1/2 Cup Chicken STock
8-10 Warmed Tortillas
To Serve:
Guacamole
Sour Cream
Cheese
Lettuce, tomatoes etc
Directions:
Lightly oil the base and sides of your crockpot.
Slice chicken breasts into strips (on the diagonal) and place in the bottom of the crockpot.
Layer the onion and capsicum over the top of the chicken.
Combine the cumin, chilli powder, lime juice and chicken stock in a bowl and stir to combine.
Pour this mixture over the top of the chicken, onions and capsicum, place the lid on the crockpot and cook on LOW for 5-7 hours, or until the chicken is cooked through.
Times will vary according to your crockpot. Mine always cooks much faster than the times given.
Remove chicken mixture from the crockpot and disgard the juices.
Serve on warmed tortillas with your favourite toppings.
Source of Original Recipe: Easy Slow Cooker Cookbook by Barbara C. Jones (recipe has been slightly modified)