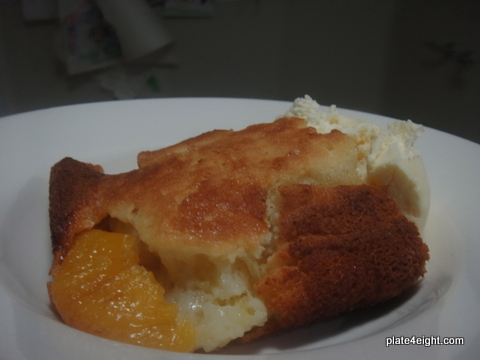 I don't usually fuss too much with desserts on weeknights, but Peach Cobbler is a sinch to throw together while you get dinner ready, so there's really no excuse not to make it, now is there?! Oh, and it contains fruit, so you could even try arguing that it's not even really a dessert until you add the ice-cream on the side. Not buying it? OK, well just try it tonight and see why my family is loving Peach Cobbler. It's also fantastic made with Apricots which are my personal favourite.
Peach Cobbler
Ingredients: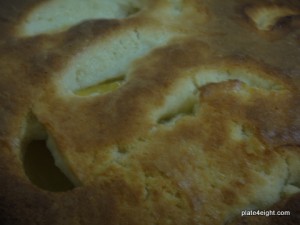 80g Butter
1 Cup Plain Flour
2 tsp Baking Powder
3/4 Cup Sugar
1 Egg
2/3 Cup Milk
1 Small Can Peach Slices (or Apricot halves)
Directions:
Preheat your oven to 200C (or about 180 fan forced)
Chop your butter and place it in the bottom of your baking dish, then pop it into the oven to melt. Watch carefully so it doesn't brown.
In a large jug, whisk together the flour, baking powder, egg, sugar and milk, until it becomes a batter checking there are no large lumps.
Remove your tray of melted butter from the oven and pour your batter mixture into the tin. DO NOT MIX!!
Arrange your peach slices decoratively in rows over the top of the batter.
Place in the oven for approx. 30 minutes or until it is golden on top.
Slice into squares and serve with cream or ice-cream.
Even your fussy eaters should love this one.
Recipe Source: http://www.frillsinthehills.com