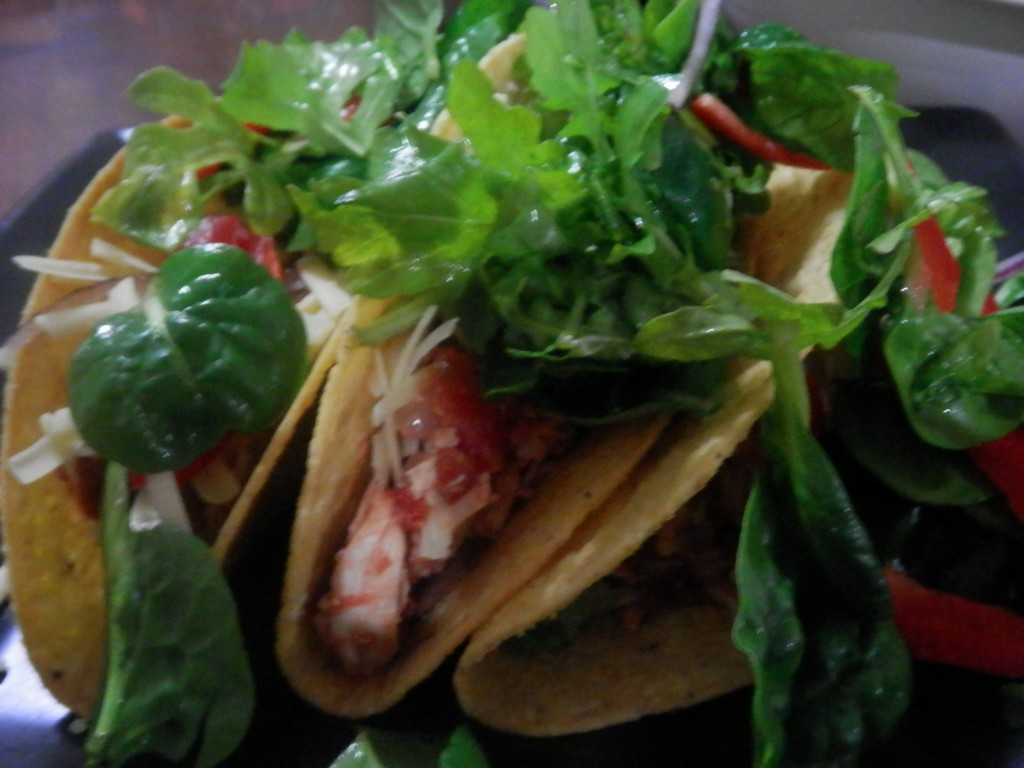 After an afternoon of helping the kids finish off their homework for the week, I suddenly found myself with nothing planned for dinner last night.  Ouch!  Then Chicken Tacos popped into my head.  I've never made them before, but they looked quick and easy and my kids love tacos.  So I found a recipe and off I went.  Unfortunately, after a taste test we decided that the chicken tasted like, well, just chicken!  Hmmm, lots more spices needed, so I went off on my own tangent, as I usually do with recipes I find, except that I'm usually pretty good at writing down the ingredients as I go.  But this time I was in a hurry, Miss5 had already snuck off to my room and gone to sleep early and I knew the others would be starving after concentrating on their homework for so long, and I didn't write anything down.  But the tacos were so good that I sat down after dinner and tried to remember measurements.  My kids don't mind a bit of spice and heat so I've underestimated a little for you, but if you like it spicier you can play with the measurements.  This is just a place for you to start.  I think I might even like Chicken Tacos better than Beef.  And don't forget to top them with my Sensational Salsa.  I know I'm boasting, but it's really good!
This recipe feeds a crowd, so you might like to halve it if you are only feeding 3 or 4 people.
Chicken Tacos
Ingredients:
(these are estimates only)
5 or 6 Boneless, Skinless Chicken Breasts poached in Chicken Stock and then shredded, discarding stock
Olive Oil for the pan
1 large Spanish Onion, diced
3 Garlic Cloves, finely chopped or minced
1 tsp Chilli Powder
2 tsp Cumin
2 tsp Paprika
2 tsp Garlic Powder
2 tsp Onion Powder
1/4 tsp Salt
1 tsp Oregano
1 tsp Cayenne Pepper
1 – 1 1/2  Cups Crushed Tomatoes (start with 1 Cup, and if mixture appears too dry add more.  It's a personal preference thing)
Taco Shells, salad, cheese, sour cream and salsa to serve.
Directions:
After you have poached your chicken breasts and shredded them, dicard the stock.
Dice your onion and combine all of the dry spices in a bowl.
Heat oil in a large frying pan at medium heat and add the onion, cooking until the onion has softened.
Add spices to the pan and stir to combine with the onion.
Once the spices are fragrant add the shredded chicken and toss to coat the chicken completely in the spice mixture.
Cook for 1 minute, then add the diced tomatoes.
Stir to combine, adding more tomatoes if the mixture is too dry for your liking.  You may even choose to use more than 1 1/2 cups, it depends on how you like them.
Once the mixture has heated through and you have done a taste test  to make sure it is just the way you like it, remove the chicken from the pan to a serving dish.
Serve chicken in Taco Shells  with all of your favourite toppings.
Notes:  This chicken can be served many ways, in taco shells, burritos, a taco chicken salad etc.  It would also freeze well.
Happy Cooking!