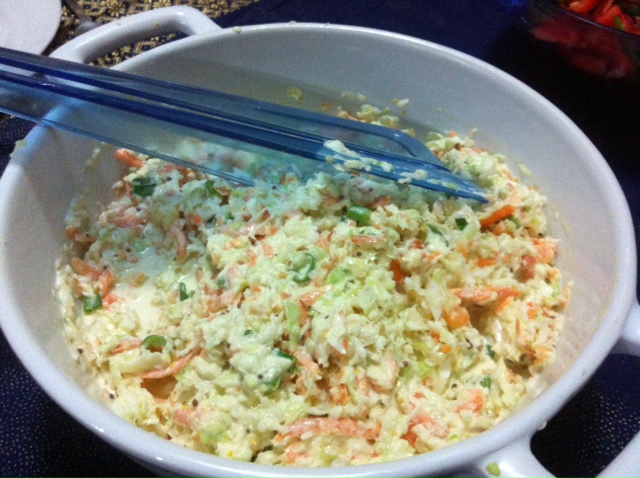 Every good BBQ needs a great coleslaw dish. I generally find coleslaw recipes to be a bit hit and miss, and bought coleslaw tastes like vinegar, but the dressing I have used in this dish adds a bit of sweetness and it got a thumbs up from my family. It will be perfect for the BBQ's and picnics we're trying to cram in while this beautiful weather holds out. I have only used white cabbage because that's all I could get my hands on at the shops today, but that's ok, because I think the kids find the red cabbage a bit too bitter for their liking.
Ingredients:
1/2 Cabbage, finely shredded
3 Carrots, finely shredded
8 Spring Onions, thinly sliced on the diagonal
Dressing:
1 Cup Whole- Egg Mayonnaise
1/2 Cup Sour Cream
2 Tbl Wholegrain Mustard
1 1/2 Tbl Honey
2 tsp Lemon Rind, finely grated
Directions:
Combine the mayonnaise, sour cream, mustard, honey and lemon rind in a bowl and stir to combine.
Place the cabbage, carrots and spring onions in a large salad bowl.
Add 1/2 of the dressing to the cabbage mixture and stir thoroughly before adding the remaining dressing. This recipe makes quite a lot of dressing, so you may like to add a little at a time until you get it how you like it.
Happy Holidays!
Notes: You can get fancy and use 1/4 white and 1/4 red cabbage if you can get your hands on a red one.